In one of history's biggest "I told ya so" moments, the group called Pro-Life Evangelicals for Biden has written a letter to the president saying they feel "used and betrayed" for the Democrats' exclusion of the Hyde Amendment from the recent stimulus bill:
Here's a picture of the letter: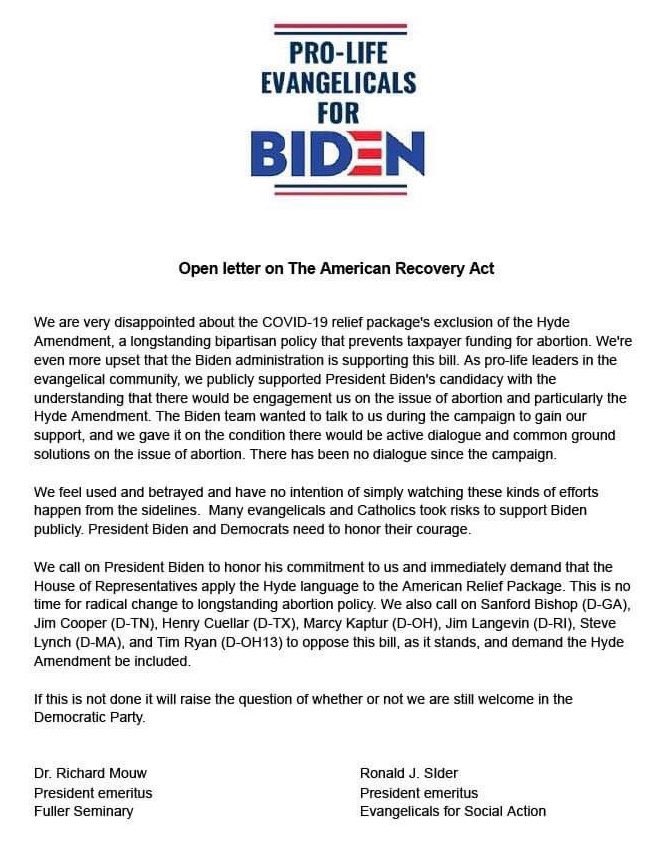 If you don't know, the Hyde Amendment is a bill renewed each year since 1976 that makes it so that federal tax dollars can't go toward abortion. There's a whole money laundering scheme Lefties have created with Planned Parenthood and others to give them support in other ways, but it remains illegal for my tax money to be used for the bloody evisceration of unborn babies.
That could very well change in the very, very near future.
"We feel used and betrayed..."
Imagine being these people. They believed the lie that Trump was an evil fascist who was very orange and very bad. They believed the hyper-edited "racist" soundbites and the "kids in cages" arguments.
How's the latter going, by the way?
Yet they voted for Biden on the belief that he was a moderate, and that despite his explicitly radical pro-baby slaughter position, he would be the cordial grandpa who brought civility back to D.C.
He told us this was his goal! He made no bones about it. Here he was in 2019 saying he would abolish the Hyde Amendment:
What Biden represents is the most radical platform to ever enter the office of the presidency, and that goes doubly so for abortion.
The rest of us were screaming from the rooftops that this was the case.
So congratulations, pRo-LiFe eVanGeLiCals for BiDeN, you just helped cement the very real potentiality that our taxdollars will be actively used to murder children by the millions in the womb. And that's just the beginning.
But at least we don't have mean tweets anymore.